Meat cutting machines fillets, bones, strips and cubes
Meat cutting machines
Specialized in meat slicers fillets, bones, strips and cubes For trade and industry we have machines to process fresh, frozen or bone-in meat.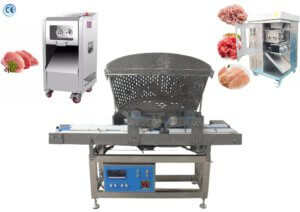 Solutions for cutting meats steaks, strips, dices.
The ARC line of machinery is available in both versions professionals What industrial, ideal for use in meat processing factories that require high performance during intensive 16 to 24 hour work shifts.
Machines for cutting meat into steaks
Meat cutting machines are essential in the meat industry. These machines are used to cut meat into fillets of different thicknesses and sizes. They are specifically designed to handle large amounts of meat efficiently and precisely.
One of the advantages of meat slicer machines in steaks is that they can precisely adjust the thickness of the steak, allowing for steaks of the same size and thickness. This is especially important in the meat industry as meat fillets must be uniform in size to ensure even cooking and to improve the appearance of the final product.
Another advantage is the capacity of these machines to be able to use different types of meat, being able to process from meat of pork, beef, chicken Y lamb, etc, which makes them very versatile and efficient.